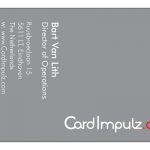 Business Card
CardImpulz understands that you want to present yourself and your company as best as you can. Besides our standard business cards we can also supply transparent (see-through) cards, which will leave a professional impression on your contacts.
Description
Production
Design
Description
Description
The transparent see-through cards from CardImpulz are slightly thinner than the standard cards (0.4-0.5 instead of 0.76), but can be provided in any thickness. Contact our sales department for any customization requirements.
Advantages of a plastic business card
Your plastic business cards will stand out compared to the regular paper or plastic ones.
People will remember your plastic business card
These cards are stronger and better protected against damaging, the weather or scratches.
Artwork
When you provide artwork for transparent cards please take into account that all CMYK colors will be transparent. If there are certain parts that do not need to be transparent, we can then apply a silk screen printed layer on the cards.
Business Card Accessories
The CardImpulz card stand
The special transparent CardImpulz gift card stand is the perfect way to keep your business cards. Please contact our sales department for more information.
CardImpulz is the Card Professional card printer for your business cards!
With this video we would like to give you an impression how our Cardimpulz chip card is being produced by a milling and embedding machine.
Click on the button below for an explanation on what we need to give you the best possible printing results: